EXO™ is a complementary product for the Surefire® X200™, X300™ and X300™ Ultra weapon lights for use on a carbine or long gun. It is a direct replacement for the plastic frame rails and provides a shroud for the activation switch. This gives the user a positive indexing point for light activation as well as providing protection against light AD's during use and storage without impeding access to the switch.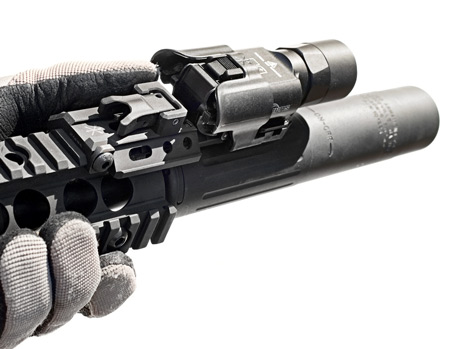 EXO™ is constructed out of very strong impact resistant polymer and provides a strengthened mounting interface with the host weapon. It also provides extra protection for the battery compartment latch. Compatible with XT-07 Pressure Switch.
Like all Unity Tactical™ products, EXO™ is 100% Made in the USA.
Protects the Switch from Accidental Light Discharge in sensitive environments
Protects the light from inadvertent activation during storage or transport
Provides a strong attachment point to the weapon through the use of a strong
engineered polymer and an increased surface area
Provides a good index point for the activation finger
Protects the battery cover latch and seal from damage