NOW SHIPPING
FUSION is a modular, multi-purpose mount designed to give the end user extreme flexibility in mounting options. It was engineered from the ground up to provide a strong mounting base with the widest range of configurations while remaining lightweight and inexpensive.
The system consists of a base with several accessories adapters. The current offerings encompass a wide range of current devices to include lights, lasers, optics, and ancillary equipment. Because the mounting system is standardized we are able to introduce new accessory mounts as equipment and TTP's change, reducing time to market and maximizing effectiveness.
FUSION was designed to maximize the use of rail space while remaining lightweight and low profile. The hub is constructed from precision milled 6061-T6 aluminum that is then Type 3 anodized in black or FDE for durability. The interface points are very strong and provide for a very rigid mount. The picatinny rail hub has 4 mounting surfaces; a top surface, forward surface, and two wing surfaces. All wing accessories are reversible.
The combination of equipment configurations is immense and we will continue to add accessories to expand the capabilities of the system.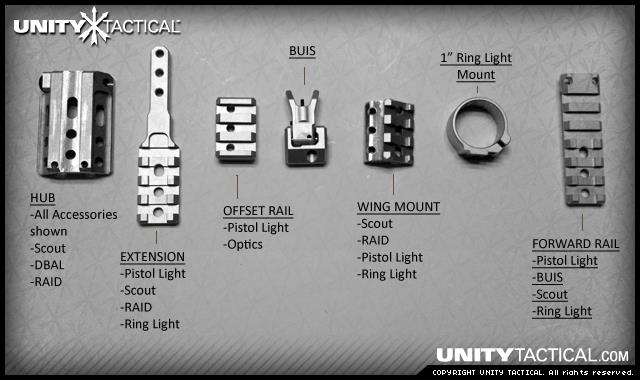 The wing accessory adapters are also compatible with our Ops-Core ARC rail adapter as well as our Tubular Rail Adapter. This allows the use of the same adapters for either a weapon or helmet mounted system to reduce complexity and cost.
We have obsessed over the details of this system for quite some time and it has been tested both in CAD and in the field. We are very excited about this project and are ready to move forward into production. It is scheduled for a SHOT Show release as there are still a lot of logistical issues to work out with so many parts being produced, as well as an additional product (VLOK) being released sometime in November.
Below are some sample configurations:
Thank you for your interest, and please let us know if you have any questions or comments. Follow us on Facebook to see some more images.
All other company and product names may be trademarks of their respective companies.