Welcome to the future of pistol-mounted optics.
ATOM™ was a concept brought about by a requirement to mount Aimpoint's excellent line of Micro optics on pistols. The extension of the design allows you to mount nearly any optic to your pistol without the need to mill the slide for each optic. This allows you to either modify your slide or purchase our aftermarket slide and use any of our adapters to mount your optic of choice.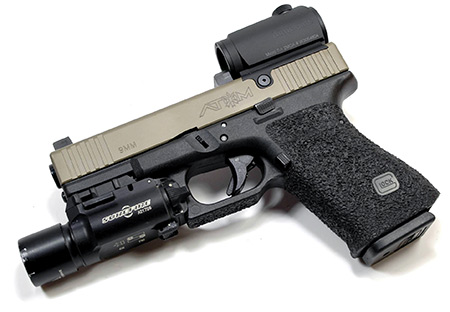 There are currently two gunsmiths that are authorized to modify OEM Glock slides with the proprietary ATOM system:
L&M Precision Gunworks
Robar Guns
The slide is modified with a large dovetail to contain the adapter. We hold extremely tight tolerances to ensure zero retention and longevity of the system. The adapters are certified 6061-T6 aluminum that is then CNC'd to our stringent requirements. Each adapter is Type 3 Hardcoat anodized and passes a QC Process before shipping.
The system is capable of using BUIS with the rear sight mounted in front of the optic.
The system assures that your weapon will be future optic compatible (within limitations); and as new optics are introduced to the market, we will release new adapter plates.
ATOM™ Slides:
Material: 17-4 Stainless Steel Heat Treated to 44-46 Rockwell
Coating: Black is DLC / FDE is a PVD
Barrel: 416 Stainless Match Grade Fluted with Unity Logo (Black DLC Coating Also Available)
Sights: Stainless Black Front/Black Rear